IFA News
IFA Weekly News Update 22nd April 2022
Calves For Ukraine Fundraiser Success

Action Needed To Address Inputs Crisis

IF President Meets Ukrainian Ambassador

Brussels Update

Upcoming Deadlines & Latest Market Reports

Calves For Ukraine Fundraiser Raises Much Needed Funds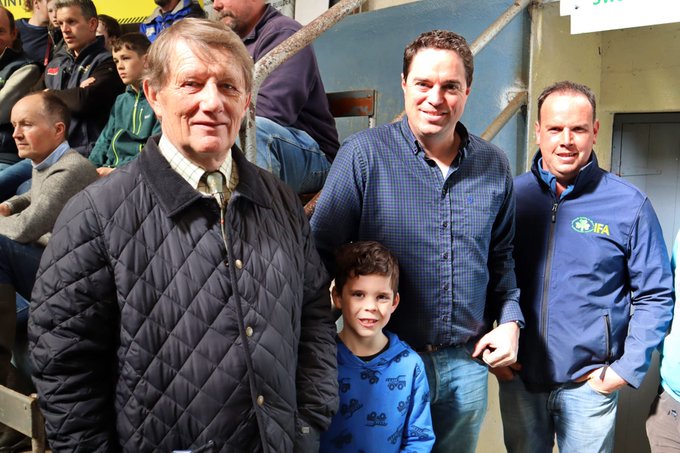 The Calves For Ukraine fundraiser in Kilcullen Livestock Mart this week is expected to raise over €30,000. With ringside and online bidders present, 62 lots of calves passed through the sale ring. Calves were donated from farms in Kildare, Wicklow and Laois, with a Limousin calf catching the top price on the day at €610.In the wake of the war in Ukraine, Kildare West Wicklow IFA decided to organise the sale to raise much-needed funds for the Irish Red Cross Ukraine Appeal. Leinster Marts came onboard to run the sale, with Kilcullen hosting their first calf sale in 20 years. Kildare West Wicklow IFA Chair Thomas O'Connor and Treasurer Eugene Lawler were the key organisers of the sale and Thomas O'Connor said he was delighted with the level of support the sale received.
---
Farmers Cannot be Left in Limbo on Inputs Crisis
IFA National Farm Business Chair Rose Mary McDonagh said farmers across all sectors are being hit by an array of spiralling input costs, which are eroding already low margins for most. Aggregate agricultural output prices rose 19.2% in February vs. 2021 levels, but aggregate input prices rose by over 28%, with increases in certain fertilisers (+180%); fuel (+38.5%); feed (+20%) and electricity (+22%). "It's simply just not sustainable at current levels. Farmers cannot be left in limbo and expected to carry on regardless, to simply suck up the uncertainty and take the losses to ensure food security for Irish consumers. Many operations will simply go out of business if nothing changes soon," she said.
---
More Farmers Should be Encouraged to Participate in Animal Health Initiative
The IFA Animal Health Chairman TJ Maher said the introduction of the Parasite Control TASAH (Targeted Advisory Service on Animal Health) is an important starting point, but more could be done to encourage farmers to get involved.The TASAH includes a veterinary farm visit and two faecal egg counts and is open to all cattle and sheep farms. Funding is available for up to 40,000 farmers to participate this year. However, the IFA Animal Health Chair said the TASAH needs to be expanded to reward farmers for taking part.
---
Farmers at North Cork IFA Executive Raise Concerns about Motorway & Greenway Projects
Farmers at this week's meeting of the North Cork IFA Executive outlined their concerns about the Cork to Limerick N/M20 roadway and the Mallow to Dungarvan Greenway because of the upheaval to their farming business and the need for certainty regarding compensation and the timelines for the projects.IFA North Cork Chairman Pat O'Keeffe said the north Cork area is a top-class, highly-productive agricultural area and the new Cork to Limerick motorway will cause significant damage to farmers. Equally, he said farmers are concerned about the impact of the Mallow to Dungarvan Greenway project.
---
Teagasc Report Highlights Impact of Inputs Crisis on Sheep Sector
IFA Sheep Committee Kevin Comiskey has called for immediate action to support sheep farmers in the current input costs crisis. He said the updated report issued by Teagasc this week should focus the mind of the Minister for Agriculture Charlie McConalogue on the challenges faced by sheep farmers and the need for immediate interventions to support the sector."Sheep farmers are not seeing any increase in market prices come through compared to last year, but are dealing first hand with the impact of feed, fertiliser and fuel price increases on their farms," he said.
---
IFA Member Services
Save €240* on your Mobile Bill
Did you know that as a new or existing Vodafone customer, you are entitled to a 17% discount on your price plan.
This is an exclusive IFA member offer.
Call us now 0818 924 852
*Terms and conditions apply
---
National Community Engagement Day
Next Wednesday, April 27th, An Garda Síochána, IFA and the members of the National Rural Safety Forum will invite local community members to partake in the National Community Engagement Day. The day, last held in 2020 will involve over 800 communities from across the country meeting with their local Gardaí and community representatives to discuss matters of importance to them such as rural safety, crime prevention and security. The meetings will be informal and will last approximately one hour. A full list of location around the country will be available early next week.
---
IFA President Meets with Ukrainian Ambassador
The IFA President met the Ukrainian Ambassador Larysa Gerasko this week. Tim Cullinan expressed solidarity with the people of Ukraine following the invasion by Russia. He said he looked forward to working with representatives of the Ukrainian farming community through COPA COGECA.
---
IFA Meet with UFU and ICBF to Discuss Farming Issues
The IFA President Tim Cullinan met the UFU President Victor Chestnutt and the UFU Deputy President David Brown in the Irish Farm Centre this week.The meeting was an opportunity to discuss farming issues.Victor Chestnutt will complete his term of office on Saturday week and Tim Cullinan wished him well. He also said he looked forward to working with incoming President David Brown.
---
UCD Ag-Soc Visit Irish Farm Centre
We were delighted to host the UCD Agricultural Science Society this week in the Farm Centre to thank them for their help and support during the last academic year. We wish them the best of luck in your upcoming exams.
---
The European Parliament Agriculture Committee met on Wednesday and Thursday. They discussed the impact of the invasion of Ukraine on fertiliser sector with a 40% increase in price on pre-crisis levels, which were already high. MEPs said that high prices were not a new issue and Italian MEP Herbert Dorfmann said there was a market failure with too few producers thus contributing to an oligopoly. The Agriculture Committee then discussed the activation of the Crisis Reserve Also on Wednesday, IFA Director of European Affairs Liam MacHale attended the COPA Working Group meeting on Breeding Livestock. The revision of live transport of animals legislation due in 2023 raised concerns that consideration may be given to a ban on export of ruminants only to third world countries. On Thursday, Liam MacHale attended the COPA Working Group meeting on Forestry which included the discussion on carbon sequestration in relation to sustainable forest management.
---
A Look Ahead
Wednesday 27th April
National Community Engagement Day will take place around the country. This event is co-hosted by the IFA and An Garda Síochána.European Award Ceremony for Cooperative Innovation.
Thursday 28th April
COPA meeting in Brussels which IFA President Tim Cullinan will attend. EU Commissioner Wojciechowski will join by video to discuss the market situation following the Russian invasion of Ukraine and the EU Communication on Food Security. Director General of DG Environment Mrs Fink Hooijer will have an exchange of views with the Praesidium on Nature Restoration Targets.Animal Health Committee Meeting.Women in Agriculture Stakeholder Group Meeting to discuss greater involvement of women in agriculture.
Friday 29th April
Food and Agriculture Organisation Chief Economist Maximo Torero Cullen will address Praesidium on impact of Ukraine conflict on Food Security of Third World Countries. COPA will hold a Press Conference following the Praesidium meeting.IFA President and Director of European Affairs Liam MacHale will attend the European Constituency meeting for the World Farmers' Organisation.
---
Upcoming Deadline Notice:
Beef Environmental Efficiency Programme – Sucklers – Monday, 25th April 2022 You must apply by midnight on Monday, 25th April 2022. You must apply online by logging in or registering at www.agfood.ie. If your login or password has expired and they need to be renewed, please contact the Department's helpdesk.
Dairy Beef Calf Measure – Monday, 25th April 2022You must apply by midnight on Monday, 25th April 2022. You must apply online by logging in or registering at www.agfood.ie. If your login or password has expired and they need to be renewed, please contact the Department's helpdesk.
Deadline for submissions to the online public consultation survey on the Future of Forests and a new Forest Strategy – Wednesday, 27th April 2022
The questionnaire takes approximately 15 minutes to complete and can be accessed here. IFA will be making a submission on your behalf but we also encourage all forest owners to get involved and make their own submission. For more information please see the Department of Agriculture, Food and the Marine website here.
Basic Payment Scheme – Monday 16th May 2022
The deadline for Basic Payment Scheme (BPS) is just over a month away. You must apply by midnight on Monday, 16th May 2022. You must apply online by logging in or registering at www.agfood.ie. If your login or password has expired and they need to be renewed, please contact the Department's helpdesk.
---
Latest Market Reports
Beef Market Update
IFA livestock chairman Brendan Golden said beef price rises in our key export markets and in particular the EU market are not being reflected in the prices factories are offering farmers.He said while prices continue to creep up 5c/kg a week the price surge for young bulls on the continent and price increases in the UK are leaving our prices lagging behind the prime export benchmark price by over 30c/kg on the latest report. The IFA livestock chairman said factories must reflect the buoyant market conditions for Irish beef in the UK and EU markets by closing the gap with the export benchmark price.
Sheep Market Update
IFA Sheep committee chairman Kevin Comiskey said factory prices for hoggets and spring lamb are not reflecting the increased production costs on sheep farms.He said prices are currently running up to 30c/kg below last year for hoggets and must push on. Prices in the UK and France have shown strong growth over the past few weeks reflecting market demand for sheep meat.Kevin Comiskey said factories must come forward with significant price increases to reflect market conditions and the investment of sheep farmers in producing hoggets and spring lamb at this time of year.
Pig Market Update
Irish pig price increased this week by 6c/kg. Farmers are receiving quotes of €1.66c/kg up to €1.70 or €1.72 – €1.76/kg. Farmers welcome this upward movement but need more significant movement for the price they receive for their pigs urgently to slow the haemorrhaging of money they have endured.
Potato Market Update
Markets remain largely unchanged at present; the Easter bank holiday created some additional demand in the food service sector. Recent dry weather has allowed good progress on maincrop preparations and plantings at this point. More growers are reported to be finished in the south east. Again, growers are reminded to plant for their individual markets as markets continue to re- configure post covid.
---